• Bernadette • Charlotte • cows • family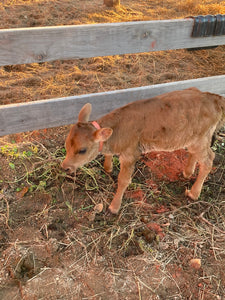 It was Thursday evening. I was tired from a long day of baking and bread delivery and a long week of calf checks. A few nights of midnight alarms to run out to the barn to check on Charlotte and see if the calf was on it's way. Cyril was looking for something to do and Mike and I hadn't even finished eating supper. "Go out a check Charlotte. That will give you something." I told him. He wasn't thrilled but it was something to do. He grabbed a flashlight and headed to the barn. We watched from the kitchen...
---
• family • ingredients
"Your daughter is going to need your help on Monday" Mike told my dad. Not sure just what I was getting into now I can imagine dad was a little hesitant to ask "now what does she have going on?""She ordered 500 pound of flour to be delivered and needs help unloading the pallet."Yes, I did that. 500 pounds of organic, non-GMO, heritage wheat flour from Minnesota! I've been sourcing my flour from Montana to fill in the gaps of what I'm not growing yet. I loved their flour but was searching out something more local and finally found it....
---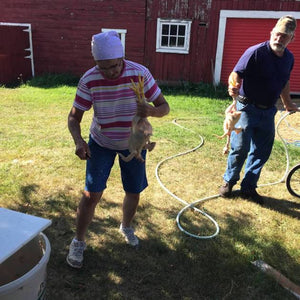 Belly up, neck first. Cut the neck skin just a little, then on the right side carefully peel the crop from the skin. Assuming the birds didn't eat the day before it should be pretty empty, if not be extra careful because it can make a big mess. Turn the bird butt up towards you. Cut off the tail. Flip the bird and make a careful cut to open the abdominal cavity and cut around the butt hole. Again being extra careful to not cut anything beyond skin deep. Pull out the guts being sure to pull the throat...